A COMMUNITY OF PRACTICE
TO FOSTER INNOVATION IN
CRISIS MANAGEMENT AND
DISASTER RISK REDUCTION
POLICYMAKERS
PRACTITIONERS
NGOs/CSOs
PEOPLE FROM INDUSTRY
SCIENCE
TRAINING AND EDUCATION
STANDARDISATION REPRESENTATIVES
Trial Owner
About
What this tool
is for
The Crisis Management Innovation Network Europe (CMINE) is a community of practice whose objective is to foster innovation and enhance a shared understanding in the fields of crisis management and Disaster Risk Reduction in Europe.
CMINE is creating an umbrella network of stakeholders active in crisis management by linking existing projects, networks and initiatives. By doing so, CMINE reduces fragmentation in the crisis management domain, prompts the generation of ideas and assists in the identification of innovative solutions to improve European resilience.
CMINE provides to its members an online and offline environment to actively engage with other crisis manage ment professionals. It helps them to reflect on current and future challenges while facilitating the uptake of research and innovation by practitioner organisations. Different task groups have been set up to explore approaches to address issues in specific crisis management areas, namely floods, wildfires and volunteer management. The CMINE platform has been designed as a flexible tool, easy to update and inform through collaboration. Its aim is to become a sustainable pan-European platform in support to all professionals involved in crisis management.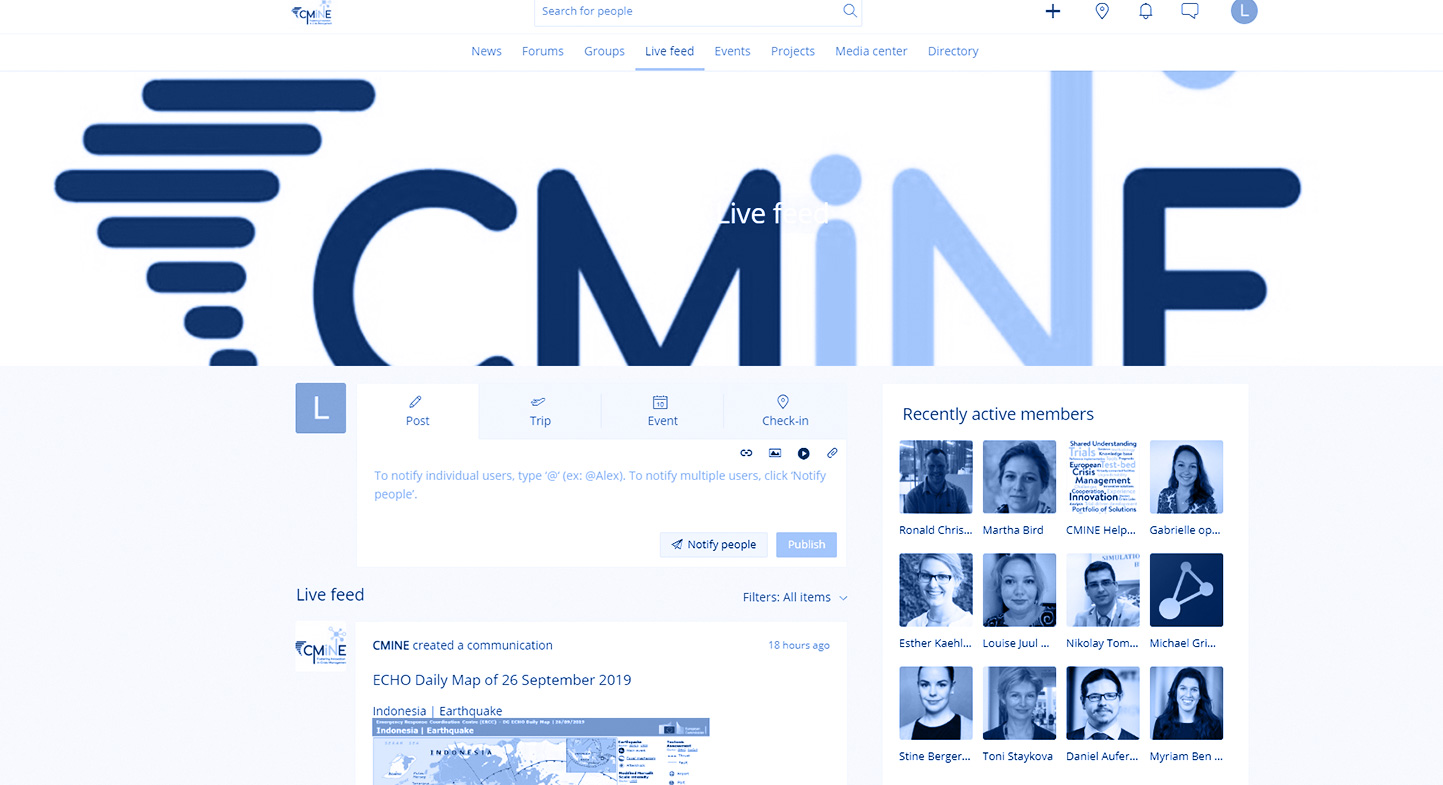 CMINE's guiding principles and ambitions are to:
Foster multi-stakeholder and cross-sectoral interaction – Join a diverse group of stakeholders active in crisis management, share knowledge, ideas and work together to solve current and future challenges
Engage members through a content-driven approach – Benefit from a structured, moderated and open space to generate ideas and foster innovation through interaction
Become a hub for crisis management innovation in Europe – Discover key information such as results of research projects and cutting-edge crisis management solutions and stay up to date on crisis management news and events
Provide visibility and networking opportunities to the crisis management community – Showcase your results (e.g. EU-funded research projects) to increase visibility, while expanding your networks through our expert database